It's a 15 hour drive to New Orleans (where my brother and his wife live) from our home in Virginia, so I knew I'd need to make a stop with the kids along the way and Chattanooga, TN was one of our stops (we also stopped in Pigeon Forge). The last time I was in Chattanooga was in 1998 and I was eager to go back to explore with the kids. Chattanooga is a great place to visit, particularly if you have just a weekend.
Where to Stay
We stayed at The Chattanoogan, which is a Chattanooga hotel that's situated in a delightfully quiet part of town. There is free covered parking at the hotel (a bonus on hot summer days) and it was easy to get in and out as we got acquainted with Chattanooga. While I enjoy staying "in-town," many times you need to just abandon your car for a few days, so it was nice to be able to access the minivan with ease.
The Chattanoogan offers free high-speed Wi-Fi throughout the hotel, including in the guest rooms, which was nice and not available at every hotel (and it really was high-speed). There are also several on-site restaurants at this Chattanooga hotel near Lookout Mountain, including the Broad Street Grille and Stroud's Sidewalk Café, which is perfect when you have hungry kids that want to eat as soon as possible.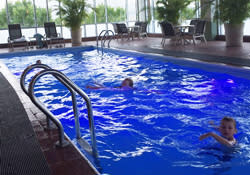 One of our first stops inside The Chattanoogan was the heated indoor pool. It was a small pool, but it was just the right size for my four kids. Even better, there are scenic views of Lookout Mountain. And, as the sun goes down and it begins to get dark, lights in the pool change the water color to neon blue.
We had connecting rooms at the hotel: one room with a king bed for me and one room with two queen beds for the kids. This was pure heaven after spending two nights in one room with two queens and a rollaway bed. Not every hotel offers connecting rooms (usually just adjoining), so it was helpful to be able to keep the door open between the two rooms to keep tabs on my kids.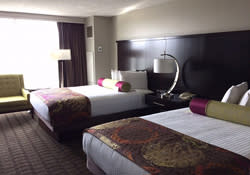 I wish I could have taken advantage of the full-service spa while at The Chattanoogan. Adjacent to the indoor pool and fitness center, I could have squeezed in a massage or a facial. I probably could have even kept an eye on the kids while getting a manicure it was that close to the pool. Maybe next time…
My kids loved their two queen beds at The Chattanoogan. I loved that we had connecting rooms.
Click here to read the full article.
Published on: August 28, 2015: Written by Erin Gifford