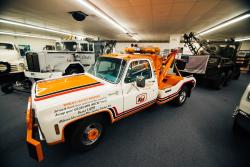 From vintage race cars to hot rods and more, many Americans are drawn to vehicles and their history. Whether you are a fan, collector or like things with an engine, there are many places in the South that highlight cars, motorcycles and other modes of transportation. Indulge your inner gear head by adding any one of these five museums to your itinerary.
International Towing & Recovery Hall of Fame & Museum
It is said that the first towing wrecker was manufactured by Ernest Holmes Company in Chattanooga, Tenn., in the early 1900s. So it makes sense the city would be the site of the International Towing & Recovery Hall of Fame & Museum. Inside the museum, you can see various antique wreckers, the world's largest tow truck fabricated by Ernest Holmes Company, and nearly everything in-between. There is also plenty of memorabilia to check out as well. Not only does the museum honor the actual trucks and history, but also the people who operate them. The Hall of Fame honors over 250 members from more than 20 countries; and the Wall of the Fallen, located outside the museum that pays respects to those that lost their lives doing their jobs.
Click here to read the full article.