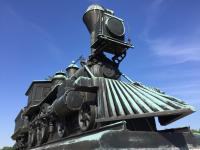 I started where it ended, in the rolling hills of the Chattanooga National Cemetery in Tennessee. There, under a great bronze statue of the steam locomotive The General, is a monument to one of the Civil War's most daring raids, an adventure that came to be known as "The Great Locomotive Chase."
Around the memorial are the graves of some brave men: James J. Andrews, the civilian spy who organized the raid, and seven of the Union soldiers he led. Some of them were the first Americans to ever receive our nation's highest award for valor — the Medal of Honor.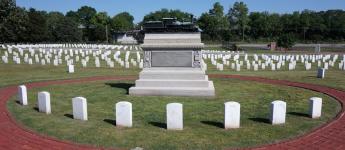 They also share one other piece of history. All of them were hanged; seven of them were executed side-by-side from a single scaffold.
How the locomotive and these eight courageous men came together is a fascinating tale. Since it is also the story of the world's first high-speed chase, it can only be appreciated by following the trail of Andrews' Raiders over a 120-mile journey, from Atlanta to Chattanooga. Along the way there are visits to museums, several monuments, a chance to see two of history's most famous steam locomotives and even the opportunity to ride a golf cart through an historic Civil War era railroad tunnel – the same tunnel the chase went roaring through in 1862.
Some background is necessary before the first stop. In the early days of the Civil War, Chattanooga was an important rail junction that controlled food and supplies coming from the deep South headed to the Confederate armies in Virginia. Cut the rail lines in Chattanooga, and it could end the war.
Click here to read the full article.
Published by The Huffington Post on May 11, 2017: Written by Rich Grant