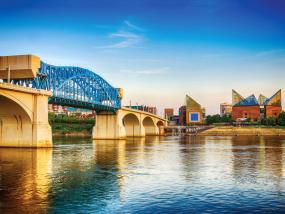 There's plenty of good reasons why Chattanooga is dubbed The Scenic City. Tucked away in the foothills of the Appalachian Mountains along the Tennessee River, Tennessee's fourth largest city is rich with natural marvels. Whether you're leisurely taking in breathless views from Rock City and Ruby Falls, or cycling down Chattanooga's Riverwalk and Stringer's Ridge, there's endless ways to enjoy the great outdoors here.
Though spending time in nature is one way to explore the area's offerings, it's not the only way. Because in the past few years, the charming Southern city has experienced a renaissance, with a cool crop of restaurants, bars, and a sparkling, new hotel leading the wave. Here, a weekend guide on where to stay and where to eat when visiting The Scenic City.
Click here to read the full article.
Published by Forbes on January 30, 2019: Written by Katie Chang