The fireman dabbed his lips with a cloth napkin. Shirtsleeves rolled, hat removed and resting on the stool alongside, he leaned into the counter for another bite. As juices traced his wrists, and a stray rope of tobacco-colored onion slid from the griddle-toasted bun, he turned my way. I was hovering, waiting for a seat to open at the six-top bar, installed alongside the butcher case at Main Street Meats in downtown Chattanooga.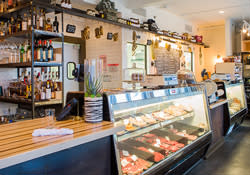 He nodded slightly and flashed an approving smile that told me dinner would go well. Soon I claimed my own stool and my own generous grass-fed burger, draped with Gruyère, stacked with bacon, layered with house pickle chips, and smeared with sharp mustard. Eating a burger at a butcher shop, within sight of dangling sides of beef, is something like eating a fish sandwich on a boat as workers haul and gut grouper: You benefit from proximity to the protein and the action.
Perched next to Niedlov's Breadworks, facing Fire Station One, Main Street Meats is a butcher shop that doubles as a restaurant. Or maybe it's the inverse. Whatever it is, MSM, as some locals call it, is a beacon café for this river city, once fouled by pollution, now better known for green spaces, gigabyte Internet, artist relocation efforts, and bike share programs.
The concept may sound novel. But the form is old and archetypal. The South is rife with country stores that begat catfish restaurants. And filling stations that became steam-table meat-and-threes. At a time when most grocers sell shrink-wrapped and foam-trayed meats, old-fashioned butcher shops—stocked with pastured beef and pork and chicken, cut to order by men and women who know what the heck they're doing—are now in renaissance.
Customers today want to look their meat cutter in the eye and know the provenance of their pork chops and beef briskets. It makes good sense that, after assaying the bona fides of a shop, many customers are happy to have the nice folks in the kitchen cook their ground beef, too.
Click here to read the full article.
Published by Garden & Gun in June/July 2016: Written by John T. Edge