In his 2001 fantasy novel American Gods, the British author Neil Gaiman describes visitors to Rock City—Chattanooga, Tennessee's most famous non-locomotive attraction—like this: "When they leave, they leave bemused, uncertain of why they came, of what they have seen, of whether they had a good time or not."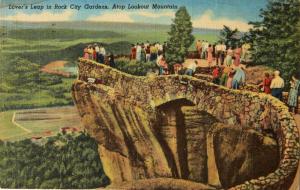 When I first read those lines, I bristled—my standard reaction to anyone daring to describe anything relating to my hometown without first living there for eighteen years—then huffed in grudging recognition.
As a kid, I made the pilgrimage up Lookout Mountain to Rock City countless times. With my family, I wandered the narrow paths between boulders and over the suspension bridge to the Lover's Leap overlook, where I strained to See Seven States and posed for photos with foam-headed mascot Rocky the Elf before descending into the lurid dreamscapes of Fairyland Caverns and Mother Goose Village, a subterranean hallway lined with black-lit dioramas of fairy tales and nursery rhymes. Back then, the place seemed not just entirely natural but eternal to me, without beginning or end. In fact, it had been coaxed into being during the late 1920s by Frieda Carter, an avid horticulturist, lover of European folklore, and wife of a local real estate developer. Frieda designed the trails, augmented the landscape with native plants, and hired a sculptor to build the fairy-tale statuary. Then her husband, Garnet, saw dollar signs. The Carters opened the gardens to the public in 1932 and a few years later paid a man to paint black-and-white ads on barns all the way up to Michigan.
Click here to read the full article.
Published by Garden & Gun April/May 2018: Written by Rachael Maddux