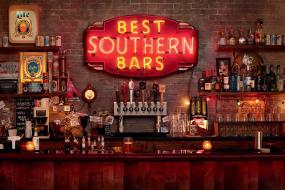 The Southern craft-cocktail renaissance is still doing boffo box office—the show's run is now well into its second decade. But the stage direction for the current scene has seen a change in protagonist: "Exit: Mixologist. Enter: Bartender." Or, more precisely, reenter bartender.
The early acts of the revival emphasized the specialized handiwork of drink masters armed with eyedroppers and hand-carved muddlers and house-made this and that, served up in hushed temples devoted to the bibulous arts. These places offered a distinguished alternative in a milieu still hungover from a long dalliance with Long Island iced teas. But while the drinks were delicious, something had been lost among the mumbled incantations and muttonchops: that sense of feeling welcome, as if returning home, even if you'd never set foot there before.
The drinks magic remains (there's no better time since the late 1800s to step out for a perfectly made Sazerac), but the new class of bar is bringing back the lost art of hospitality. Bartenders are acting like bartenders again, and new venues are taking some of the settings we're familiar and comfortable with—the dive bar, the honky-tonk, the classic corner tavern—then adding to the mix outstanding cocktails, a wine library that runs quiet and deep, a mood that refuses to take itself too seriously, and bar food that doesn't seem in the same genus as cheese fries. (Also, USB outlets.)
By definition, new bars are, well…new. They lack the natural patina that comes with age. Yet many of these Southern bars, all opened within the past two years, will leave you feeling as if they've been around for a while. Put your feet up on the brass rail. Settle in for the next act.
WHISKEY THIEF-CHATTANOOGA, TENNESSEE, EST. 2018
Revisit Chattanooga…now with a new aerial view. Whiskey Thief sits atop the recently opened Edwin Hotel, providing a panorama of the city's iconic Walnut Street Bridge. The space has a fun, boho industrial vibe, with soaring windows, and the drinks are as well made as the vintage-style glassware in which they're served. The Eighteen Seventy-One, with Glenfiddich 12, Campari, Punt e Mes vermouth, and a touch of hickory smoke, is a good starter. Or you can rummage through the cocktail attic, sampling such throwbacks as the Aviation, concocted with gin, lemon, and both cherry and violet liqueurs.
Click here to read the full article.
Published by Garden & Gun February/March 2019: Written by Wayne Curtis