Relive railroading's golden age aboard the Tennessee Valley Railroad's restored vintage trains. It's a trip into history on a rolling time machine! The Tennessee Valley Railroad has been described as a moving museum, offering an interactive, historical experience. Visit Chattanooga to find the only regularly scheduled, full-sized train rides in Tennessee. But it is so much more than just entertainment! The mission of the Tennessee Valley Railroad Museum is to collect for preservation, operation, interpretation, and display, railroad artifacts in an authentic setting to educate the public concerning the role of railroads in the history and development of the region.
Mission R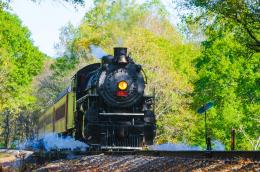 idge
The 55-minute experience on the Missionary Ridge Local includes a 6-mile round trip, the most frequent trip on the railroad. Daily in season, Missionary Ridge Local trips begin at the Grand Junction Station and take passengers along one of the original railroad lines in Chattanooga, crossing four bridges and passing through pre-Civil War Missionary Ridge Tunnel, which was completed in 1858. The train stops at East Chattanooga, allowing riders to see the locomotive rotating on a turntable and participate in a tour of the railroad restoration shop before re-boarding for the return trip. Round trip time is slightly less than an hour — a great train ride for kids.
The term "Local" refers to short line trains that were at one time a lifeline to the world from small towns around the nation. As the train rolls to a stop with the ground rumbling under your feet, you feel the mounting anticipation. The conductor calls the long-awaited signal: "All Aboard!" Excitement builds as passengers scurry to their seats. This was a regular occurrence 100 years ago…as it is today. Mission Ridge schedule runs every month of the year.
Click here to read the full article.
Published by Byways Magazine Spring 2018.