A compact city with a multitude of outdoor attractions, Chattanooga is ideal for a weekend getaway. Situated just about a two hours' drive from several metropolitan areas — including Atlanta, Nashville, Birmingham and Knoxville — this city is an optimal spot for road trips and weekend visits. A family-friendly destination, Chattanooga offers a balance of indoor entertainment as well as opportunities to enjoy nature. Although downtown is walkable, the city offers a free electric shuttle that runs daily.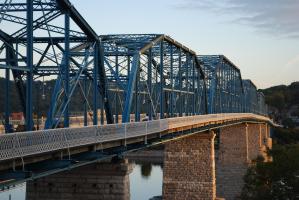 A few must-see sites when visiting Chattanooga:
Revelry Room
Located in the historic Chattanooga Choo-Choo terminal (and adjacent to Songbirds Guitar museum), the Revelry Room is a stylish live music venue. With a capacity of 500 people, the space features bands several nights a week and a spacious bar with craft cocktails.
Tennessee Aquarium
With two massive buildings, the Tennessee Aquarium offers an abundance of intriguing sea life exhibits in modern facility. Situated on the banks of the Tennessee River, it provides kids and adults the chance to view sharks, reef fish, butterflies — and a variety of animal encounters.
Hunter Museum of Art
With architecture that includes an early 1900s classic revival mansion connected to a modern 2005 structure, the Hunter Museum of Art has one of the top art collections in the southeast. Set atop a cliff overlooking the Tennessee River, the museum displays artwork and sculpture from the colonial era to today.
A short stroll away from the museum is the Walnut Street Bridge. One of the longest pedestrian bridges in the world at nearly 2,500 feet, it offers picturesque views and connects the downtown and historic north shore neighborhoods.
Click here to read the full article.
Published by USA Today on February 17, 2017: Written by Marla Cimini