Chattanooga, Tenn., is dubbed the Scenic City. And for good reason. Straddling the transition of the Appalachian Range and the Cumberland Plateau, "the Noog" sits in the shadow of Lookout Mountain and is cleaved in two by the Tennessee River. With such an embarrassment of Mother Nature's riches, it is perhaps no surprise that it has earned a reputation as a hub for outdoor activities.

But, this quintessentially Southern city at the junction where U.S. Highways 24, 59 and 75 meet, and about two hours north of Atlanta, has more to offer than access to the great outdoors. With a bustling downtown boasting shopping, a wide range of restaurants, a developed riverfront area, a vibrant arts district and the wonderland that is the massive Tennessee Aquarium, you could spend a weekend in just the city center. So do both. Immerse yourself in Chattanooga's culture and then head off into its outskirts for some time spent amid the area's striking scenery.

Day One
Morning
Start your visit on a full footing with a morning meal at Aretha Frankenstein's. Hidden in a residential section on the north shore of the river, it serves heaping helpings of scary-good breakfast foods from 7 a.m. to midnight daily in a tin-topped, teal-sided house. Slightly spooky but mostly just strange decor dominates the small (always packed) dining room, including posters and photos honoring the monster whose name the eatery borrows. If you can finish a fat stack of fluffy chocolate chip pancakes, you'll be good till dinner.

Leave Aretha's and head across Veteran's Bridge to arrive in the Bluff View Arts District. On a hillside overlooking a wide swath of river below, a winged metal man is frozen a millisecond before taking flight, his toes just brushing the grass, a wide open sky before him. Part of the sculpture garden on the edge of the district, he's only one of many works ranging widely in size, material and style on display among manicured shrubs and ornamental trees. Several small galleries line the steeply inclined streets, places like River Gallery, with earth-toned pottery and paintings, and The Houston Museum of Decorative Arts, showcasing Victorian art glass and antiques. Take a moment here to bask in the light caught and reflected by brightly hued, delicate glass formed into myriad shapes. The Hunter Museum of American Art crowns the crest of the bluff, and its walls and halls are lined with the results of creativity flowing from our countrymen's (and women's) minds and hands.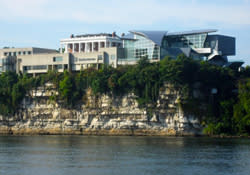 Hunter Museum of American Art
If you played it safe at breakfast, you're probably ready for a light lunch. A soothing bowl of tomato soup and cup of high-octane black gold at Rembrandt's, tucked on the ground floor of one of the district's towering Tudor-style buildings, provides the necessary boost for an afternoon of shopping.

Afternoon
Hit Main Street first and start with a stop in Area 61, a haven stuffed with eclectic furnishings and décor, most of which are handmade by locals. Note the copper and turned-wood speaker systems that are fully functional works of art. Cotton & Twine offers on-trend ladies' clothing as well as some stylish jewelry, including dainty polished-stone necklaces in stunning shades.

Look for the chugging steam engine in the sky and head that way to find the Chattanooga Choo Choo Hotel, a historic property built into a circa 1909 Southern Railway terminal station. Step into the lobby and tilt your eyes up. The magnificent glass dome ceiling pairs with two large arched windows to flood the space with natural light.

Across the street, at the Tennessee Stillhouse, the city's first legal distillery since prohibition (opened in spring 2015) is working away, turning out barrels and then bottles of its 1816 Reserve Whiskey in the same area that was home to whiskey production a century ago. Take a behind-the-scenes tour and do a tasting before buying a bottle or two for your liquor cabinet and snagging a "Vote Whiskey" t-shirt. The message echoes the campaign waged by the Chattanooga Whiskey Company in 2014, a successful effort to get laws changed so the distillery could bring "whiskey to the people."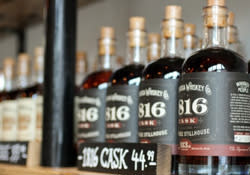 Tennessee Stillhouse
You're probably not hungry again, but need is incidental when chocolate is concerned, so pop inside the Hot Chocolatier next door. Nosh on colorful macaroons and other artisan sweets and warm yourself from the inside out with a heavenly scented and rich, subtly sweet tasting vanilla-lavender hot chocolate. Go ahead and grab a bag of red-velvet chocolate-covered dried cherries to take the edge of any future munchies.

Hop a ride on the electric trolley (a pick-up point is back at the Choo Choo) and continue browsing and buying at Warehouse Row, a collection of chic boutiques and national chains housed in a line of old manufacturing buildings. Lines Orchids is an upscale florist specializing in the exotic blooms, as well as succulents and air plants (frilly, fern-like flora that thrive sans soil). Home decor items and gifts fill in the rest of the space in this oasis of green growing things. Shadowbox Paperie will fulfill any desire for fine journals, letterpress stationary, leather-bound day planners and exquisite (expensive!) wrapping papers.

Evening
When you're done meandering through this grouping of retail offerings, you don't have to go far for dinner. Awash in white and wood tones, Public House at Warehouse Row offers the comforts of classic Southern favorites with a fine-dining touch that's sophisticated but never stuffy. The pimento cheese and bacon burger is simple and delicious, a never-fail choice. But the veggie platter affords the chance to experience several slightly elevated yet still traditional Southern dishes as well as more global players all on one plate. Try a foursome of homey grits; sweet and soft creamed corn; kale, golden raisin and peanut salad; and earthy roasted beets embellished with crumbles of tangy goat cheese.

End the evening with an after-dinner drink at The Social, under the same ownership as The Public House and also in Warehouse Row. On the sugary side, the Public Knowledge blends pineapple-infused gin with sparkling lemonade and a pinch of refreshing mint. The Rookie in a China Shop makes good use of Chattanooga Whiskey Company's "brown water." Its deep char flavor is accentuated with ginger beer, curaçao and crème de cacao.
Click here to read the full article.
Published by Paste on October 19, 2015: Written by Jennifer Stewart Kornegay