Opening its doors in early 2017 in Chattanooga, Tennessee, Songbirds Guitar Museum is a one of a kind treasure trove of iconic historical guitar brands and the people who brought them to life. Housed in a rustic old building completely refurbished and fortified to protect the valuable exhibits inside, this rare museum is nestled into the walking streets of downtown Chattanooga in the Choo Choo complex near plenty of restaurants and bars, bustling with people chilling out and having a good time.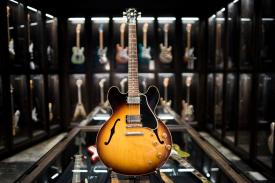 Inside, are glass-enclosed cases showcasing some of the most rare and valuable instruments in the world dating back to the 1920s including Fender, Gibson, Gretsch, and Rickenbacker, "all grouped by brand, timeframe, and linear progression" covering music styles from early blues, country, and bluegrass to the British invasion and surf.
But what caught the eye of GGM was the mid-section exhibit hall referred to as the Green Room featuring the "Six String Queens," the wonderful and talented ladies that helped kick off and grow the acoustic and electric guitar revolution for women in country, blues, and rock music! We had the pleasure of attending the opening day which included music by Jess Goggans, guitar giveaways by Fender and Gibson, and a personal guided tour.
Curator David Davidson shared with us that he's seen a recent shift in the guitar industry – today, there are more young girls and women attending music camps and buying guitars. It was his vision for this exhibit to shine a spotlight on influential female guitarists as a way to encourage young girls and women to pick up a guitar and play. Attending the exhibit that day, we met Tara Viland and young daughter, Kai, who are part of the Chattanooga Girls Rock Camp. Kai was beaming from ear to ear and thoroughly enjoyed her time at Songbirds...
Click here to read the full article.
Published by Guitar Girl Magazine on October 18, 2018: Written by Tara Low