Seventy-five years ago today, Japanese forces executed a surprise attack on the U.S. naval base at Pearl Harbor, Hawaii, pulling the United States into World War II and forever changing the course of history.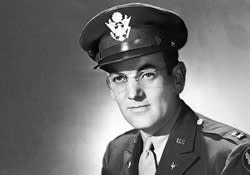 At the time of the attack, Glenn Miller's "Chattanooga Choo Choo" was the No. 1 song in America on the Billboard charts. Shortly after Pearl Harbor, Miller joined the war effort, leaving behind a lucrative life as swing music's biggest star. In December 1944, a little more than two years after America entered WII, a plane carrying Glenn Miller disappeared en route to France. Miller was declared dead shortly thereafter. The big band jazz pioneer was just 40.
On the 75th anniversary of a day that will live in infamy, Billboard spoke with music journalist and historian Robert K. Oermann -- he's written eight books, scripted about 50 TV specials about music and continues to write a column at Music Row -- about Miller's wartime efforts, his death, and how WWII changed the type of songs being made in America. And for the curious, Oermann also lists a number of fascinating WWII-themed songs, covering everything from swing to pop to country.
Click here to read the full article.
Published by Billboard on December 7, 2016: Written by Joe Lynch