Ice on the Landing Moving From Waterfront to Chattanooga Choo Choo Gardens
Chattanooga, TN — Chattanooga Presents has announced that Ice on the Landing, presented by Volkswagen Chattanooga will be relocating to the beautiful outdoor gardens at the historic Chattanooga Choo Choo this season. Having drawn over 30,000 skaters to the waterfront for each of the past two holiday seasons, Chattanooga's popular open air skating rink will now be surrounded by gas lanterns, fountains and gardens at the South Side's iconic landmark.
People of all ages will be able to enjoy this classic winter activity again this year from November 18 through January 16.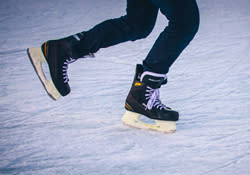 Changes are being made to the Glenn Miller Gardens at the Choo Choo to accommodate Ice on the Landing, which will keep its name, while adding the tagline "At the Choo Choo Gardens." The dimensions of the rink will be 40'x140' (as compared to last year's 60'x100' size). This year will also feature a brand new rink and equipment including new skates, all being designed specifically for this new space.
"Ice on the Landing has quickly become a Chattanooga winter tradition for novices and skilled skaters alike, and we are pleased to once again partner with Chattanooga Presents to make it happen," said Scott Wilson, Head of Communications for Volkswagen Chattanooga. "I think the addition of ice skating to all the holiday activities on the Southside will make this the best year yet."
Ticket pricing will remain the same, with $10 for an adult ticket, and $8 for skaters aged 12 and under. This includes skate rentals and skating for two hours.
"We are extremely excited to be the home of Ice on the Landing. The family fun activity will add to the great Holiday setting at the Choo Choo, including the City's largest indoor Christmas Tree and the most authentic Santa Claus. While changes needed to be made to the Gardens to hold the rink, we are happy to make them and we will now be able to hold larger events in the future."
The rink continues to be locally managed and operated through professional event producer, Chattanooga Presents. According to Carla Pritchard, Chattanooga Presents owner, "We feel like we've have found the perfect setting for outdoor ice skating within the gardens of the Choo Choo, which has always been a major tourist attraction and is now, more than ever, becoming a popular entertainment destination for locals."
The only ice-skating option offered either indoors or outdoors in Chattanooga, Ice on The Landing has established itself as a new wintertime tradition in Chattanooga's bustling south side by offering a unique recreational opportunity during the holiday timeframe.
Ice on the Landing will be open every day within its eight-week season, including a lively schedule that accommodates public skating and features special themes and events, music and promotions, as well as certain nights that benefit local charities.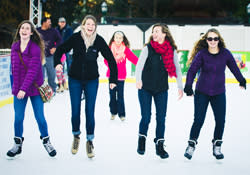 Birthday skating parties will continue to be offered, with pizza and cupcakes being served in an indoor Arcade next to the rink. Season passes will continue to be offered for $100, as well as gift cards for the rink. In addition, Ice on the Landing will offer a Basic Skills skating course each Saturday and Monday morning prior to opening hours.  
As always, visitors to the rink can stay warm with hot chocolate and other favorite cold-weather food and drink on site.
Ice on the Landing presented by Volkswagen Chattanooga is also made possible through sponsorships from Tennessee Valley Federal Credit Union, BlueCross BlueShield of Tennessee, Maven Group LLC, Puckett's Chattanooga and Children's Hospital at Erlanger.
Media partners are the Chattanooga Times Free Press, Sunny 92.3/Hits 96 and WRCB TV 3.
###