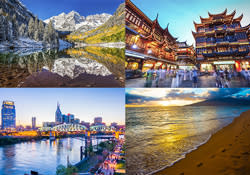 We've been watching trends and keeping tabs on deals and prices for months. Now we're ready to share this list of the season's affordable destinations. Why not treat yourself for surviving the winter by booking a trip to one of these insanely affordable spring destinations?
Editor's note: All prices were valid at time of publication, but are subject to change at any time.
Tennessee
From the Thunder Road Wine Trail in East Tennessee to the live music lining Broadway in downtown Nashville, the Volunteer State is one of the most affordable destinations you can visit this spring.
Flights: From New York City, StudentUniverse analysts found flights starting at $252 round-trip to Nashville, with the cheapest days to travel in April. And, starting May 5, JetBlue will fly direct from both Boston and Ft. Lauderdale. If you fly into to Knoxville, look to low-cost carrier Allegiant, which has direct flights into the city via most major U.S.-city hubs.
Hotels: Hotels in Tennessee are often least expensive before the state's big name music festivals come to town in June. While Nashville hotel prices can be a little pricy, the area has lots of AAA discounts at hotels, according to Clem Bason, CEO of goSeek.com. Or opt to stay in another city; according to CheapTickets.com, average hotel rates in Gatlinburg are $96 per night.
What to Do in Spring: Pleasant temperatures cater to plenty of outdoor activities across the state. May marks the international Memphis in May festival with events like the Beale Street Music Festival (Beck, Weezer, Paul Simon, and Neil Young and Promise of the Real are headlining) and the Great American River Run. Memphis was also named one of Gogobot's 2016 Rising Stars, putting it on the map as a go-to tourist destination. Explore the Thunder Road Wine Trail in East Tennessee, or "The Scenic City"—Chattanooga, best enjoyed in the spring. Come springtime in Music City, you'll find Nashville Fashion Week, the Cherry Blossom Festival, the Nashville Film Festival, and the Rites of Spring music festival at Vanderbilt on top of all the other wonderful outdoor activities the city offers.
Click here to read the full article.
Published by Smarter Travel on March 17, 2016: Written by Ashley Ross