Conrad Anker puts his hand on my head and musses my hair. He's seated behind me wearing 3-D glasses and a red trucker hat, holding a can of Modelo with another in the armrest beside him. An enthusiastic smile spreads across his angular jaw. Anker looks like Thor, despite carrying himself with the comportment of a college science professor. His voice is slightly nasal, and he has a pen clipped to his shirt pocket. "Drink!" he says in an emphatic whisper, pointing at my beer.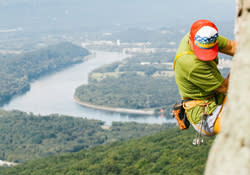 We're in Chattanooga, Tennessee. Anker is paying a visit to a nearby mill that's knitting a sock he designed for his particular occupation: climbing up the sheer, ice-covered walls of the largest mountains on earth in sub-freezing temperatures. Tonight, though, we're cracking lagers at the Carmike East Ridge 18 & IMAX Theater.
It was his idea to play a drinking game while watching Everest, which chronicles the 1996 Mount Everest expedition that took a turn for the deadly, documented in Jon Krakauer's bestselling book Into Thin Air. It's your run-of-the-mill drinking game: six rules, each man-dating anywhere from a swig to a half beer for different situations, tropes and tragedies. Rule number one: take a swig for every theatrical stumble. For death, we dip a pinky into the beer and flick it three times, a gesture of respect Anker says is practiced by Sherpas in Nepal. Beck Weathers, played by Josh Brolin, slips on a ladder bridge and I give Anker a thumbs up, crack my beer and take a swig.
Anker, now 53 and living in Bozeman, Montana, is well acquainted with Mount Everest. He first summited in 1999 when a team set out to find the body of pioneering English mountaineer, George Mallory, who disappeared en route to the summit in 1924. Anker found Mallory's preserved body — apparently only hours after the search began — and members of the expedition ultimately suggested that it was unlikely Mallory and his partner Sandy Irvine made it to the 29,029-foot summit. Anker ascended Everest two more times, first in 2007 to further document the circumstances of Mallory's disappearance and then again in 2012, without supple-mental oxygen, to do geological research and conduct tests on high-altitude human physiology. While Anker says that climbing Everest would leave him "depleted for weeks," it was far from his most challenging ascent.
The routes that best define Anker's mountaineering require mixed climbing, or a combination of rock and ice climbing, on vertical and overhanging terrain, often at 20,000 feet or more above sea level and in extreme weather. They're often first ascents — routes that nobody has ever climbed — and in some cases they're considered nearly impossible. Most recently — and by his own measure, his greatest achievement — he climbed a route up the Shark's Fin feature on Meru Central in India's Garhwal Himalaya Range, elevation 20,700 feet, in 2011. A film about the climb, Meru, won the US Documentary Audience Award at Sundance in 2015.
Click here to read the full article.
Published by Gear Patrol: Written by Jeremy Berger