Today's retirees want (and deserve) so much more than shuffleboard and early bird specials. This dynamic phase of life is the perfect time to discover trendy bars and restaurants, museums and art, outdoor hiking and biking trails, golf courses and meaningful ways to get involved with the community.
The truth of the matter? Retirement looks different for everyone, which is why Livability's list of the 10 Best Places to Retire represents a wide variety of lifestyles, cultures, climates and geographic locations.
We examined more than 2,000 cities across the country and factored in more than 20 data points to determine this year's list of the best places to retire. Sure, we looked at the number of golf courses and assisted living facilities in each city, but we also considered other important metrics, like crime rates, natural disaster risks, the quality of local hospitals, housing affordability, climate, air quality and the number of people over the age of 65 (which we think is a good barometer for how easy it will be to make new friends).
If you or someone you love is preparing to make a move to start this exciting new chapter, we've got you covered. Here are our top 10 cities to live in during retirement — read on for some inspiration. Some of them might surprise you!
CHATTANOOGA, TENNESSEE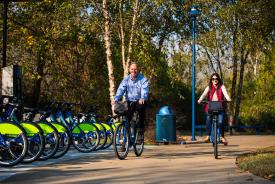 Located along the southern Tennessee border, Chattanooga is nestled among the curves of the gorgeous Tennessee River. From mountain biking to whitewater rafting, there are dozens of ways to play outdoors in the outdoorsy, active city. But if you're looking for a more low-key lifestyle in retirement, Chattanooga offers that, too.
The 13-mile Riverwalk, for instance, is a relaxing way to enjoy an afternoon on foot or on a bike. There's also the serene Reflection Riding Arboretum & Nature Center, where you can stroll along 14 miles of trails (while enjoying views of more than 140 species of trees) or rent a canoe for an afternoon paddle on Lookout Creek.
There are many lush golf courses to choose from in Chattanooga as well, including two municipal courses, Brainerd Golf Course and Brown Acres Golf Course. The city also has an impressive tennis complex with 26 hard courts and a 6,000-square-feet clubhouse, if you prefer to stay nimble and fit with a more fast-paced sport.
Plus, property taxes are relatively low in Chattanooga, where you can also find reasonably affordable housing — the median home value in Chattanooga is around $150,000, with homeowners paying an average of $1,200 per month in mortgage costs. And you won't run out of cultural enrichment here, either, with places like the Hunter Museum of American Art and the beautiful River Gallery Sculpture Garden to visit regularly.
Click here to read the full article.
Published by Livability November 2018