Due to climbing's soaring popularity, gyms have popped up in most metros with impressive facilities and loads of regular members. As fun as indoor climbing is, there is no substitute for getting out on real rock. Most cities, however, don't offer easy access to outdoor climbing spots.
Fortunately, there are a handful of charming, affordable locales in close proximity to enticing walls that have a whole lot more to offer in the way of culture and community. You just might find one of them the perfect next place to hang your rack...
4. CHATTANOOGA, TN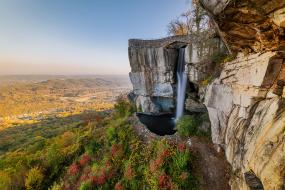 Chattanooga has so much to offer climbers, starting with Stone Fort. This bouldering site has over 300 climbs that challenge climbers — at every level — to practice a variety of technical skills from crimps to slopers. Just 30 minutes outside of the city, devotees can sneak in an hour or two after work.
Not only is Chattanooga home to incredible climbing, it is also one of Livability's Top 100 Best Places to Live. Far from just being an outdoor adventure hotspot, Chattanooga is also home to a number of tech startups and entrepreneurs. A multitude of craft breweries, outdoor adventure and affordable cost of living certainly add to the appeal of this bustling city.
A wonderful way to access the climbing community and outdoorsy types in Chattanooga is outfitter and hostel, The Crash Pad. Before you walk through their doors, study this quick guide on how to sound like a local.
Click here to read the full article.
Published by Livability on June 10, 2019: Written by Mariko Zapf