CHATTANOOGA, Tenn. (March 29, 2016) – Today officials from Nokia, the Chattanooga Convention and Visitors Bureau, the Chattanooga Airport, the Tennessee Aquarium and the Enterprise Center were on hand to introduce the first municipal demonstration of ultra-high definition live video in the country.

The Planar® UltraRes™ 98" 4K display screen located inside the Chattanooga Airport is now streaming live footage from cameras inside the Tennessee Aquarium's alligator habitat using EPB Fiber Optics' Internet connectivity powered by Nokia technology.

"One of the Chattanooga Airport's goals is to immerse visitors in the Chattanooga experience as soon as they touch down in our city. This high definition display is one of the ways to continue to show travelers why Chattanooga is internationally-recognized as a truly innovative city," said Terry Hart, President and CEO of the Chattanooga Airport.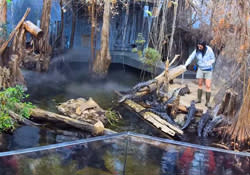 At 30 frames per second, the live video of the Alligator Bayou promises to wow airport passengers while enticing them to visit the Tennessee Aquarium and see the alligator exhibit for themselves, first hand.

"Viewing alligators in real-time will give travelers an exciting first glimpse of what's waiting for them in downtown Chattanooga," said Keith Sanford, Tennessee Aquarium president and CEO. "First-time visitors will be pleasantly surprised by our world-class aquarium, restaurants and other family-friendly attractions."

What is not visible to the airport passengers is the networking and technical expertise required to make the live 4k video display possible. The 4k video feed is transmitted by the EPB Fiber Optics network which is powered by fiber optic technology supplied by Nokia, a global leader in the technologies that connect people and things.

"A lightning fast network is needed to support the rapidly growing Internet of Things (IoT) technologies that will make cities smarter, safer, and more enjoyable by being better connected.   Alongside ng Connect members, Nokia is working with Chattanooga to deploy new IoT technology over EPB's gigabit network that will attract local business and innovation, while also delivering new digital experiences to the city's residents and visitors," said Jason Collins, Vice President of IoT Market Development at Nokia and leader of the ng Connect Program and  IoT Community.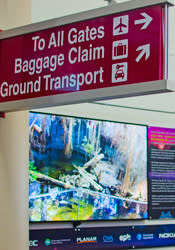 "It's exciting to have the ability to use this incredible technology to showcase our city in a new, fresh and creative way. This is one more example of how our community continues to lead, be innovative, look forward, and stay ahead. Visitors want to be in cities that are unique," said Bob Doak, President and Chief Executive Officer of the Chattanooga Convention and Visitors Bureau. "Tourists spend more than $1 billion annually in Hamilton County. We want to continue to provide new experiences for them – and what a great way to greet them when they arrive at the Chattanooga Airport."

"Chattanooga's entry as the first player to stream live 4K video is another example of what happens when people work together, a trademark of how Chattanooga operates." said Ken Hays, President and CEO of the Enterprise Center. "The Enterprise Center is proud to play a role in bringing different players to the table for the benefit of our city and county."

Screen capture footage is available here: youtu.be/BjZLsx7FEmI. Remember to check the HD settings on YouTube before playback.

###

CHATTANOOGA CONVENTION AND VISITORS BUREAU
The Chattanooga Convention & Visitors Bureau is a non-profit, Hamilton County funded organization, formed to strengthen the area economy through the marketing and promotion of the Chattanooga area as a year-round destination for meetings, conventions, sporting events and leisure travel. chattanoogafun.com

TENNESSEE AQUARIUM
The Tennessee Aquarium is a non-profit organization dedicated to inspiring wonder, appreciation and protection of water and the life that it sustains. Regarded for its expertise in animal care, top-ranked guest satisfaction and award-winning education programs, the Aquarium has been continuously accredited by both the Association for Zoos and Aquariums and the Southern Association of Colleges and Schools. For more information about how the Tennessee Aquarium positively impacts our community, go to: tnaqua.org/about-us/community-impact

CHATTANOOGA AIRPORT
Chattanooga Metropolitan Airport is Chattanooga, Tennessee's public airport, offering direct flights to eight cities, including Atlanta, Charlotte, Chicago, Dallas, Detroit, Orlando, Tampa Bay and Washington, D.C. via Allegiant, American Airlines, American Eagle and Delta. The Chattanooga Airport boards approximately 400,000 passengers each year. It also offers award-winning services for general aviation needs at Wilson Air Center, a 9,000 square foot corporate flight center adjacent to a 28,000 square foot hangar, which is slated for completion in May 2016. chattairport.com

THE ENTERPRISE CENTER
The Enterprise Center is establishing Chattanooga as a hub of innovation, improving people's lives by leveraging the city's digital technology to create, demonstrate, test, and apply solutions for the 21st century.

EPB
Established as an independent board of the City of Chattanooga in 1935, EPB is a municipally-owned utility that provides electricity and fiber optic services as a means of promoting economic development and enhancing quality of life across the local area. In addition to being the first major utility to earn the USGBC's PEER certification for having a highly automated, modernized electric power grid, EPB's fiber optic communications network delivers the world's fastest Internet speeds (up to 10 Gigabits per second across the community-wide network). EPB serves more than 170,000 homes and businesses in a 600 square-mile area that includes greater Chattanooga, as well as parts of surrounding counties and areas of North Georgia.

NOKIA
Nokia is a global leader in the technologies that connect people and things. Powered by the innovation of Bell Labs and Nokia Technologies, the company is at the forefront of creating and licensing the technologies that are increasingly at the heart of our connected lives.

With state-of-the-art software, hardware and services for any type of network, Nokia is uniquely positioned to help communication service providers, governments, and large enterprises deliver on the promise of 5G, the Cloud and the Internet of Things. nokia.com

NG CONNECT PROGRAM
The ng Connect Program is dedicated to the creation of the new generation connected user experience. With its dynamic multi-industry membership, the organization drives relevance and new business models through innovation. Founded by Nokia, ng Connect is comprised of more than 250 members including leading network, consumer electronics, application and content providers. For a full list of members, please visit ngconnect.org/members and for more information on the ng Connect program, visit ngconnect.com. Follow them on Twitter @ngConnect.