Tennessee is brilliant for autumn colors. The state is crumpled with old, rocky mountains blanketed in forests, and these groves turn into a riot of flaming hues come fall. Thousands of tourists return every year to witness the seasonal show. Of course, there's more than just the pretty vistas. You can also fish wild rivers, hike into the heart of the mountains and state parks, and hop on a bike to explore scenic pathways.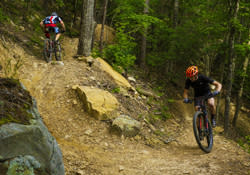 Biking in Chattanooga
There's a reason they call Chattanooga the 'Scenic City.' It's one of the best cities of its size for biking, surrounded by pretty forests and pathways that range from gentle elevation to steep mountainsides. You can take an easy ride alongside the city's Riverwalk, or pump your legs and tackle the long haul 80-mile Mountain Cove Loop. Thanks to Bike Chattanooga, all adults have access to bicycles via a 24/7 bikeshare system.
Click here to read the full article.
Published by Lonely Planet September 2018: Written by Adam Karlin