IT'S NOT EVERY DAY you get to hold a million-dollar guitar. Much less play one.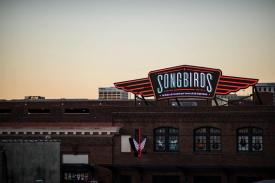 Of course, I don't actually play guitar, so the experience was a little wasted. But standing in a back vault at Chattanooga's Songbirds Guitars museum, holding a piece of Rock and Roll history, I was really wishing I did.
"That's the third electric guitar Gibson ever made," Johnny Smith, the executive director of the most impressive guitar museum ever created tells me. "Go ahead, you want a picture?"
Usually in a museum, touching the exhibits gets you thrown out, banned for life, and possibly arrested. At Songbirds, if you see a Stratocaster Buddy Holly once used and think you could do better, you're welcome to get it off the shelf and try.
The museum has been open since last year on the second floor of the Chattanooga Choo Choo. The Choo Choo — named after the famous Glenn Miller song — is the city's historic train station, which reopened last year as an entertainment venue. Songbirds is its anchor, but it also has a live-music venue, a comedy club, a beer bar in an old rail car at American Draft, and a modern restaurant at STIR. It's the sort of diversity of dining, drinking, and entertainment developers in large cities strive to emulate, and it's symbolic of what a first-class destination Chattanooga has become.
Click here to read the full article.
Published by Matador Network on September 13, 2018: Written by Matt Meltzer