WOW, WHERE'D SUMMER GO? One minute you're shaking the dust off your inner tubes and the next it's like "Hey, where are you parking for tailgates this year?" But don't lament the end of summer; fall brings the nicest time of the year in many parts of the country — specifically, those parts where trees go from green to all shades of red, yellow, and orange. Driving to see those colors is fun, but to really experience their magic, a train ride is the way to go. Across America, there are some spectacular railroad trips to see the fall foliage, from the famous New England autumn landscapes to more underrated fall destinations like Colorado and Tennessee. Here are the 12 best scenic train trips in the US you need to hitch a ride on this fall.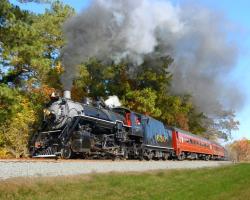 TENNESSEE VALLEY RAILROAD-CHATTANOOGA, TENNESSEE      
The most popular ride in the town famous for its choo-choo is the Missionary Ridge Local, a 55-minute ride over four bridges and through a mid-nineteenth-century tunnel. But to really get the most of the fall colors in this area, opt for the Hiwassee River Rail Adventure, which takes you on a longer ride through the Cherokee National Forest, surrounding you with brilliant leaves and thick foliage.
Click here to read the full article.
Published by Matador Network on August 6, 2018: Written by Matt Meltzer