NOW THAT WE'RE BACK in the full swing of fall, long summer vacations are a thing of the past. Sure, you could take a two-week jaunt to Europe in the middle of October, but between football and school and everyone else actually being in the office, being gone for so long isn't quite as easy. Hence the quick fall weekend escape, an opportunity for you to get out of town without throwing your whole life out of whack. It's still a vacation, just a short one.
When thinking about where to go for a weekend, obvious names like New York City, Miami, or San Francisco come to mind. But those cities are often packed with everyone else who had the same idea — plus, they're usually pretty expensive for a weekend jaunt. Instead, try exploring some places that offer just as much excitement without the crowds and inflated prices. From rehabbed rust-belt cities to small towns in the Smoky Mountains, here are five underrated weekend cities that are worth visiting this fall.
CHATTANOOGA, TENNESSEE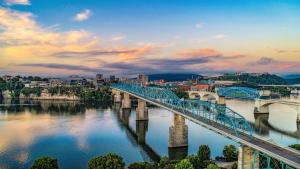 Mountain weekend escapes are commonplace on the West Coast, but back East, it's harder to find towns that combine the outdoors, food, and beer. Asheville, North Carolina, gets a lot of the attention, but a little west in Chattanooga you'll find a mountain town that feels like a big city, with some of the best outdoor adventures in America.
Chattanooga sits smack dab beside the Appalachian Mountains, which means it's surrounded by challenging hikes that lead to spectacular views. Take a trek to the top of Lookout Mountain for a rewarding panorama of the city. You can also take a couple hours and explore some of the urban hikes in the 92 acres of trails at Stringer's Ridge, which has views over the Tennessee River and city skyline. Within half an hour, you can raft Class III-IV rapids along the Ocoee river or go hang gliding over the top of Lookout Mountain.
The city feels bigger than it is, with a thriving nightlife scene centered on the historic train station, now re-christened the Chattanooga Choo Choo. Here you'll find a craft-beer bar set in an old rail car, a comedy club, a live music venue built in the old baggage claim, and the Songbirds guitar museum — home to some of the rarest guitars in the world. The owners will even let you play them if you ask nicely.
Across the street is the Chattanooga Whiskey distillery, the first to open in over a century. Chattanooga's also filled with more breweries than you'd expect in a city of under 200,000, including OddStory, Hutton & Smith, and Terminal BrewHouse. And be sure to hit Clumpies ice cream parlor, an old-school-style creamery that may just have the best ice cream in the state.
Click here to read the full article.
Published by Matador Network on September 7, 2018: Written by Matt Meltzer