You don't have to spend a lot for a memorable vacation, especially if you're traveling within the U.S.
GOBankingRates determined the best American travel destinations for your money by looking at data provided by Hipmunk for the average costs of flights, hotels, transportation, food and drinks at 55 cities across the country to find out where you'll get the most bang for your buck. Consider one of these cheap places to save on your next big vacation.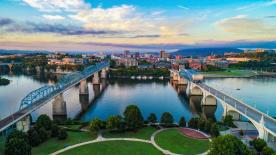 CHATTANOOGA, TENNESSEE      
Airfare cost: $377
Hotel cost per night: $128
The average cost to get around Chattanooga on public transportation is $12 per day. Food and drinks are relatively affordable in the Southern city as well, with the average meal costing $12, and the average domestic beer costing $4. Local attractions include the Bluff View Arts District, the Tennessee Aquarium and the Tennessee Valley Railroad Museum.
Click here to read the full article.
Published by MSN on January 1, 2019: Written by Gabrielle Olya