When you just need to get out of town, but you don't want to go too far, a trip to Chattanooga is just the thing! From animal encounters, climbing to new heights and scrumptious food, there's something for everyone. Here are some of my faves that are sure to make your summer weekend getaway a most memorable one:
PLAY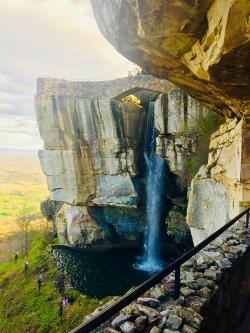 Of course, growing up and having visited Rock City Gardens & Lookout Mountain many a time, we had to show our kids around. A quick drive up the mountain had the kids excited to see what was at the top. The coolness of this place never gets old. I still find myself fascinated by everything up there. The trails feature massive ancient rock formations, gardens with more than 400 native plant species, and you can't miss the breathtaking "See 7 States" panoramic view. But, before you get to the cliff's edge to see those seven states, take your time exploring the trails that take you through the rock formations. You may have to squeeze your way through some spots and duck your head in others, but the trails take you all around the area in and out of the rocky side of the mountain.
Our most favorite part of it all is the Fairyland Caverns. Deep inside the cavern you'll carefully travel a dark path (with lighting at your feet) to see little alcoves featuring black light sculptures of your favorite fairytales. Oh, and of course you'll love the beautiful sight of the waterfall at Lover's Leap. It's definitely an Instagram worthy photo op. Rocky City is located at 1400 Patten Road, Lookout Mountain, GA 30750. Rock City general admission is $19.95 adult, $11.95 ages 3 – 12. Learn more at seerockcity.com.
Click here to read the full article.
Published by Nashville Parent on June 6, 2018: Written by Kiera Ashford