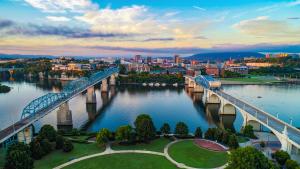 So you're plotting the greatest belated spring break getaway ever… might I suggest sultry southern Appalachia? Wait. Why are you running away? Just hear me out. Fun facts: At 10 gigs per second, Chattanooga boasts the fastest internet in the Western Hemisphere, if not the world – plus, it even has its own bespoke, crowd­sourced and government­ recognized font, Chatype. No, come back! I'm not crazy, I swear. More to the point, Chattanooga has enjoyed one of the fastest and most extreme turnarounds in America. Don't be fooled by its cutesy, cartoonish name. Chattanooga – with its whimsically Siamese­ twinned Ts and mischievous double Os – was a pretty violent place not so very long ago. As recently as 2015, the city of "Choo Choo" big band fame ranked No.10 on a list of the country's most dangerous cities with populations under 200,000, according to Law Street Media.
But, thanks to billions of dollars being pumped into the downtown area and beyond over the past two decades, the city is in full swing. Its gentrification includes the usual trappings: craft breweries, a city-wide bike share program, a sculpture park. But it has a decidedly unique 'Noogan take on it. The sheer beauty of the surrounding mountains and ridges. The proudly multi bridged Tennessee River that runs through it. That perfumed smoky fog that hovers above on a drizzly day – with all that red brick everywhere; it's like the entire city turns into Mother Nature's chimney.
Plus, there's a burgeoning tech boom in the city and, smartly, Delta launched a new nonstop to Chattanooga from LaGuardia last year (from $229/round­trip). Tech-minded "Freight Alley'' companies might very well turn Chattanooga into a quasi-Silicon Valley of the South, luring startuppy upstarts from all over. But enough preamble, enjoy five things that make Chatt all that.
THANKS A BRUNCH!
When diplomaniacs and late-risers converge, brunch manifests. Tennesseans are hardly phobic nor immune to this beautiful phenomenon, especially those Chaco-clad fanboys and girls waiting in line for a good hour on a Sunday for a desiderated table at the Southside District's State of Confusion. Opened in August of last year, jugs of bloody Marys, bacon and good vibes pervade the open-air space (SOConfusion.com).
A SLEEPY LITTLE TOWN
The two best hotels in Chatt are also two of the freshest. The September 2018-born upscale Edwin Hotel is a five-star, five-story wonder sitting right next to a one-time bad news bridge turned renovated and scenic pedestrian walkway. Elegant and rife with local artwork, the Edwin has an exceptional restaurant, Whitebird, and a buzzy rooftop bar, literally the city's first (from $202; TheEdwinHotel.com). In the Downtown District, the 108-roomed Moxy, which opened here in November of last year, oozes sexiness like the Overlook Hotel oozes blood – just call the elevator and see who pops out (from $139; Moxy-Hotels.Marriott.com).
STRING THEORY
Nesting-dolled inside the massive Chattanooga Choo Choo hotel/event/restaurant campus is a local billionaire's Songbirds Guitar Museum. You'll gaze upon a $250 million collection of the rarest Stratocasters, Telecasters, Gibsons and Flying Vs from the '30s through the '70s. It has more than 1,700 permanent and rotating fretted instruments (Museum.Songbirds.Rocks).
DO THE RYE THING
Be you whiskey plebe or god, you're gonna get tiddly at the Chattanooga Whiskey Experimental Distillery. You're gonna want to learn why "high malt" is the ish. You're gonna want to buy one of the empty barrels they sell. You're gonna want to pass out in the temperature controlled cellar. You're just gonna wanna (ChattanoogaWhiskey.com).
MIND THE CLASSICS
Yes, a lot of old Chatta­nooga is gone. But not all. The nearly 30-year-young Tennessee Aquarium, mostly popular with field tripping kids, was renovated in 2005 to the delight of critters and visitors alike (TNAqua.org). Of course, there's Lookout Mountain, home to the world's steep­est passenger railway, which lollygags its way up a mile-long track. This is where the Civil War's Bat­tle of Lookout Mountain took place.
The author was a guest of the Edwin Hotel.
Published online on March 26, 2019: Written by Chris Bunting
View PDF