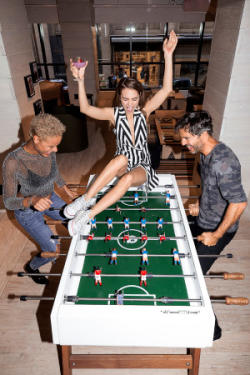 So you're plotting the greatest belated Spring Break getaway ever … might I suggest sultry southern Appalachia?
Wait. Why are you running away? Just hear me out.
Fun facts: At 10 gigs per second, Chattanooga boasts the fastest internet in the Western Hemisphere, if not the world — plus, it even has its own bespoke, crowd-sourced and government-recognized font, Chatype.
No, come back! I'm not crazy, I swear.
More to the point, Chattanooga also has enjoyed one of the fastest and extreme turnarounds in America.
Don't be fooled by its cutesy, cartoonish name. Chattanooga — with its whimsically Siamese-twinned Ts, and mischievous double Os — was a pretty violent place not so very long ago. As recently as 2015, it of "Choo Choo" big-band fame ranked No. 10 on a list of the country's most dangerous cities with populations under 200,000, according to Law Street Media.
You'll hear it said by everyone in town from local comedians at the Comedy Catch & Giggles Grill to its myriad Uber drivers: If you needed to go shopping or dine out or whatever, you did so before the sun set. After 7ish p.m., you stayed home and locked the doors.
But thanks to billions of dollars being pumped into the downtown area and beyond over the past two decades, the city is in full G-word mode. Its particular form of gentrification includes the usual trappings: craft breweries, a city-wide bike share program, a sculpture park (it has the biggest in the southeast), more festivals than community calendars can keep up with, even with that fast-ol' 10 gig internet of theirs.
However it has a decidedly unique 'Noogan take on it. The sheer beauty of the surrounding mountains and ridges. The proudly multi-bridged Tennessee River that runs through it. That perfumed smokey fog that hovers above on a drizzly day — with all that red brick everywhere, it's like the entire city turns into Mother Earth's chimney.
And you might even see Terrell Owens mobbing a Bentley convertible around town (he's an alum of UT-Chattanooga).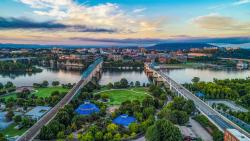 Plus, there's a burgeoning tech boom in the city and, smartly, Delta launched a new nonstop to Chattanooga from LaGuardia last year on which to capitalize (sample fare from $229/RT). While it's anecdotally utilized mostly by business travelers, I sat next to a civvies-wearing tourist.
Tech-minded "Freight Alley" companies might very well turn Chattanooga into a quasi-Silicon Valley of the South, luring in startuppy upstarts from all over.
Which isn't to say the city has lost all of its edge. On my way to gorge on some late-night "buff-a-que" wings at the Honest Pint, I ran across a poor, bloodshot-eyed bloke, on hands and knees, fastidiously rifling through cracks in the sidewalk with the aid of a flashlight looking for a dropped something or other. Yes, could've been a wedding ring. Who knows? I'll let the reader decide.
But enough preamble. If you're going to roll your eyes like so many bowling balls at Southside Social, I can't stop you. But if you're smart, heed these five ways that make Chatt all that.
Click here to read the full article.
Published by the New York Post on April 3, 2019: Written by Chris Bunting
View PDF.