Any trip to Chattanooga, Tenn. will involve three things: great food, friendly people and the great outdoors. Before you go, get ready for the outdoor experience with these essentials.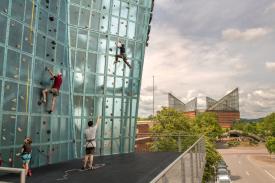 Outdoor activities dominate our local guide to Chattanooga, Tenn., and why not, when the city is home to so much natural beauty right in the heart of the United States? A friendly city with tons to explore, it's worth a visit — but before you go, pack these essentials to make the most of your trip.
We've shared packing essentials for any 36-hour trip in previous lists, so we asked Colleen Creamer, who wrote our guide to Chattanooga, to name a few items she was glad to have on her last visit — or wished she had packed.
Then we turned to Ria Misra, an editor at Wirecutter, for the best products to fill those needs as well as her expert suggestions for other things to pack to make the most of your trip. Here are their picks.
Click here to read the full article.
Published by The New York Times on May 24, 2018: Written by Alan Henry