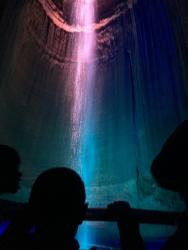 Chattanooga, Tennessee is often overlooked as a tourist destination because of the glitz, glam and allure of Nashville and Memphis. But, it's just less than a 2-hour drive from Atlanta, Georgia, and there's a whole lot of adventure that can be packed into a weekend. It's perfect for planning a family-friendly adventure trip, so we packed up four boys, age 8 and under, and headed for a road trip.
We arrived on a Friday night so that we could hit the ground running first thing on Saturday. Thanks to Spring Hill Suites by Marriott Chattanooga Downtown/Cameron for the stay.
The hotel is updated, clean and bright. It is also perfectly family-friendly. We knew that separating the boys would be an impossible mission, so we created one big slumber party. The best part was that breakfast was included. So, it made for an easy transition to feed everyone, then head out for our day of adventure.
Click here to read the full article.
Published by The Daily Affair May 2017: Written by Dayvee Sutton