Sometimes a hotel is just a hotel — a place to rest your head and freshen up — but other times it's an airplane with bunk beds or a lighthouse with a hot tub or an igloo with mesmerizing ice sculptures. These 12 oddball properties, which range from quirky and unconventional to downright bizarre, will leaving you scratching your head and perhaps even intrigued enough to book a stay.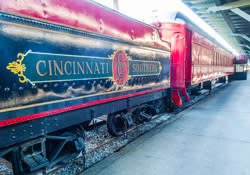 Chattanooga Choo Choo
The Chattanooga Terminal Station hasn't been a transportation hub since the early 1970s, but that doesn't mean travelers can't get a taste of its origins. The station was eventually converted into a rail-themed hotel with sleeper cars and trolley rides, among other features. Today, guests can crash in restored train cars that feature curved ceilings, vintage wallpaper and free Wi-Fi. Go on and channel your inner Snowpiercer daydreams — we think we can, we think we can.
Click here to read the full article.
Published by USA Today on November 23, 2016: Written by Alisha Prakash