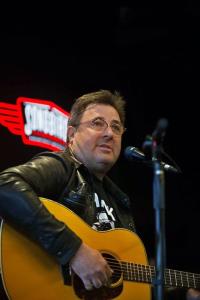 "I'm just an overgrown cheerleader for cool, old guitars," said Vince Gill, the Grammy-winning country star and songwriter. "They shaped my life. They're my DNA. They're my whole reason for making me want to be musical."
That passion led Mr. Gill to join the new Songbirds Guitar Museum as an ambassador, which primarily involves helping bring attention to the museum. Tucked into the Chattanooga Choo Choo complex in the southern Tennessee city, the museum houses a massive collection of rare and vintage guitars that showcases the evolution of the instrument.
"It's fun to be around other people who are that interested in guitars," Mr. Gill said. "They're just like art, but they make a joyful noise. When something can be that beautiful and entice you to write a song, it's game over for me."
Below are edited excerpts from a conversation with Mr. Gill.
Click here to read the full article.
Published by The New York Times on Nov. 8 and in print/Sunday, Nov. 19, 2017: Written by Kelly DiNardo