Heading to Chattanooga for your kids' spring break? Don't miss the city's Spring Break Safari (March 12-April 10), which helps visiting families maximize their experiences at eleven popular attractions. Each spot offers child-friendly keepsakes (such as maps and costumes) and two scavenger hunts.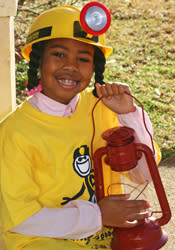 Playing pretend is encouraged: Don a conductor's cap and ride a vintage train along the Tennessee Valley Railroad, sign up for the Chattanooga Zoo's "Zookeeper for a Day" program, or become a high-tech animal tracker at the Tennessee Aquarium. Marvel over fascinating rock formations when you journey underground as a speleologist at Ruby Falls beneath Lookout Mountain. And imagine you're a sword fighter at Rock City's "Fairy Tale Nights," a nightly event featuring costumed characters from a faraway kingdom.
Pick up a free Safari journal at any of the participating sites, and visit www.chattanoogafun.com/spring for all the details.
Published in the Spring + Summer 2016 issue of Southbound magazine.

View PDF of the issue here.