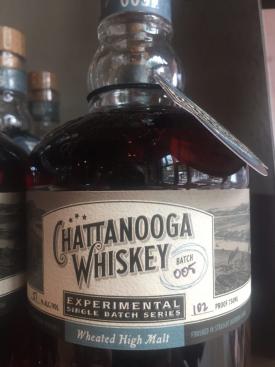 I went to see my parents, in a suburb of New York City, the weekend before a trip I had planned to Chattanooga.
"Try some bourbon," my father said. But I have never liked hard liquor much, and I—perhaps foolishly—thought that I could avoid it on my trip. But even if it wasn't there to imbibe, I wanted to visit Chattanooga Whiskey Company's Experimental Distillery. When it opened in 2015, it was the city's first legal distillery in 100 years—since Prohibition.
In the late 19th and early 20th century, Chattanooga had over 30 whiskey distilleries. Then came Prohibition, which started in Tennessee in 1909—eleven years earlier than the nationwide ban.
Tennesssee's anti-alcohol temperance movement began in 1800s, gathering steam with the support of the state's Protestant churches. By 1903, all towns with populations of fewer than 5,000 inhabitants had become dry counties. Then when the editor of the Prohibitionist daily, the Nashville Tennessean, was shot in a political grudge-fueled shootout in 1908, the Prohibitionists used the murder to advance their cause. The next year, Prohibition went statewide, then nationwide in 1920.
In 1933, Prohibition was repealed at the national level, but alcohol laws were mostly left up to the states. For the better part of a century, Tennessee law allowed liquor distillation only in three counties: Lincoln, Moore, and Coffee, where Jack Daniel's, George Dickel Whisky, and Prichards operate. (This did not prevent, of course, the state's sophisticated tradition of moonshining.)
Click here to read the full article.
Published by Roads & Kingdoms on June 29, 2018: Written by Cristina Slattery