ROARING INTO THE TWENTIES: RUBY FALLS EXPANDS INTO ITS 2ND CENTURY
CHATTANOOGA, Tenn. Ruby Falls has revealed plans of expansion on Wednesday, September 14 that will make it the most modern tourist attraction in the area as it begins a multi-phased building project in 2017. Roaring into the twenties, Ruby Falls plans to break ground on construction in January, completing two of six phases in 2018, with additional development totaling more than $20 million continuing into the 2020s. The attraction's 100th anniversary comes in 2028, bringing with it a beautiful reimagining of a beloved historical site.
"We are so proud to expand and modernize our attraction and become an exciting destination, not only for our out-of-town visitors, but for our Lookout Mountain residents and Chattanoogans as well," said Ruby Falls President Hugh Morrow. "While our waterfall and history cannot change, Ruby Falls is growing as a world-class facility that will bridge our heritage into its second century. One primary goal of this investment is to provide an efficient and comfortable place where guests can enjoy relaxing and hanging out for longer periods of time."  
The highlights of phases one and two include updated parking, ticketing, retail, restrooms, office space and a new entrance lobby, intended to improve queue lines for the cave tour and the overall guest experience. In addition, there will be a pedestrian mall and enhanced observation of the city.
"It's exciting that Ruby Falls is making this investment that gives visitors one more reason to extend their stay," said Bob Doak, president and chief executive officer of the Chattanooga Convention and Visitors Bureau. "They have always done an incredible job of bridging the gap between historic and modern. Great cities – and great companies – are always looking ahead and this is another example of how our community is doing that. Congratulations to Ruby Falls for continuing to make the Best Town Ever even better. The latest tourism statistics show that visitors spent more than $1 billion dollars in Hamilton County which supports 8,500 full-time jobs in the tourism industry."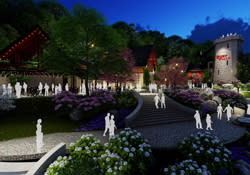 "Ruby Falls is the perfect example of a thriving destination that's ready for the next big evolution," said Mike Konzen, principal and chair of PGAV Destinations. "Lookout Mountain and the Falls are saturated with deep, rich stories from the natural science of the cavern's growth to the love story of its discoverers, Leo and Ruby Lambert. It's integral to bring those incredible stories to the forefront of the experience."
Ruby Falls has played host to millions of visitors since its first tour in 1930 and has long been a family favorite for generations. Ruby Falls is home to America's deepest commercial cave and largest underground waterfall open for public viewing. It features a 145-foot waterfall located 1,120 feet beneath the surface of Lookout Mountain in Chattanooga, Tennessee.
PGAV Destinations is a global leader in the planning and design of unique destinations. Now entering its sixth decade, the practice has evolved to become the ideal destination-consulting partner, skilled at developing growth-oriented master plans and translating those plans into successful projects. No other firm offers such an integrated approach to destination planning. PGAV's key clients include industry leaders such as SeaWorld Parks and Entertainment, the Biltmore Companies, Bass Pro Shops, Universal Studios and many others. Recent assignments include the Grand Canyon, Space Shuttle Atlantis and the Georgia Aquarium.
###