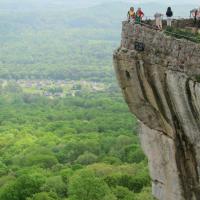 What drew me initially to See Rock City TN, was the famous ad campaign that simply had the bold words See Rock City painted on rural barns.
In addition to finding an awesome bird house that resembled the famous barns, we also found simple family fun exploring ancient rock formations, learning nursery rhymes and taking in the breathtaking views of the valley.
See Rock City: TN Attraction Still Awesome After 80+ Years
Rock City Gardens is technically located in Georgia on Lookout Mountain, but it's so near Chattanooga, TN, that people consider it a Chattanooga attraction.
It has a 1950 'esque feel, which is what I like about it. That and the barn ad campaign.
I once bid unsuccessfully at a silent auction for a coffee table book of the famous barns and a birdhouse. I don't remember what it went for, but there was fierce bidding. You gotta love an ad campaign (and an attraction) that started in 1932 and is still working more than 80 years later!
Rock City TN has stood the test of time. Sure, they've added gem panning and rock climbing for the kids, but the rest of it is a walk in time that brings you back to a simpler day when families drove to their destinations playing car bingo and kids fought for real estate in the back seat.
Click here to read the full article.
Published by 365 Atlanta Traveler on May 9, 2017: Written by Sue Rodman