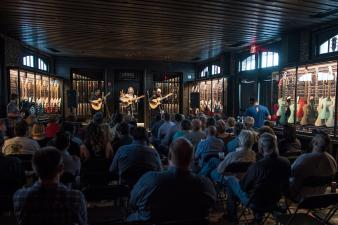 From a replica Louvre in the Middle East to the first museum devoted to American writers and another devoted to Dr. Seuss, make plans to visit these museum debuts. One way to experience a destination is through a curator's lens—as seen in museums big and small, where decorative objects, artifacts, and more are on display.
Within the last six months, a slew of museums has opened around the world, tying together the concepts of culture, history, and art. Whether you crave art, animation, history, music, or science, here's where to book your next trip. Bring comfortable walking shoes and don't forget to turn off your smartphone for a more deeply immersive experience.
Songbirds Guitar Museum
In partnership with country-rock singer and guitarist Vince Gill, the Songbirds Guitar Museum—open since March in the famed Chattanooga Choo-Choo terminal station—is home to one of the world's most esteemed rare-guitar collections (numbering around 1,700 from the early 1900s to 1970s). Even for those who have never strummed a guitar, the various designs and types (from banjos to Telecasters), when coupled with memorabilia, tell a riveting tale.
Click here to read the full article.
Published by Fodor's Travel on July 17, 2017: Written by: Kristine Hansen