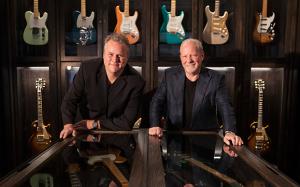 "We decided to build a Mecca for guitar lovers," Songbirds Guitar Museum curator and COO David Davidson says. Located in Chattanooga, Tennessee, inside the historic Chattanooga Choo Choo Terminal Station, Songbirds is indeed destined to become a pilgrimage site for vintage guitar connoisseurs and music fans in general. With some 550 rare, fascinating, and beautiful electric and acoustic guitars on display as of the museum's March 10 opening, Songbirds represents an interesting new concept in musical instrument museums. There is no permanent collection. Instead the instruments are on loan from many of the world's foremost collectors, who prefer to remain anonymous. Audio-video material, artifacts, and other onsite resources help bring the stories of these exceptional instruments to life.
"I was reluctant to call this place a museum," says Johnny Smith, Songbirds' president and co-founder. "I love museums, but they tend to have an environment that's respectful, quiet, very clean, and polished. I wanted Songbirds to be rock and roll—loud, flashy, and exciting."
Davidson and Smith began formulating the idea for the attraction several years ago. As co-owner of the New York vintage dealership We Buy Guitars, Davidson had cultivated deep connections within the guitar-collecting community, having procured coveted instruments for many collectors. He began to talk to his clients about lending some of their guitars to an institution where they could be viewed and appreciated by the general public.
Click here to read the full article.
Published by Guitar Aficionado on April 10, 2017: Written by Alan di Perna