As a self-proclaimed "guitar nerd," country music icon and Grammy-winning singer-songwriter Vince Gill owns a serious collection of stringed instruments himself. So it's no surprise that he was named as ambassador of the brand-new Songbirds Guitar Museum in Chattanooga, Tenn.
Gill enthusiastically embraces the role and ties it to his own career. "These things make a beautiful sound and they are inspiring to play and hear and hold. There is really something about the kinship of an instrument in someone's hands who is trying to be creative. Without the guitar, I would not have written all these songs, I wouldn't have played all these shows and I wouldn't have done all the things that I've been able to do."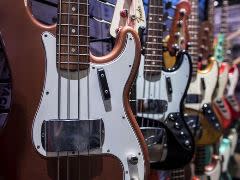 The Songbirds museum is the new home to what is considered by aficionados as the premier private collection of rare guitars in the world. The collection features approximately 1,700 significant guitars from the early 20th century to the 1970s. At 7,500 square feet, Songbirds will be interactive, displaying approximately 500 of the instruments in permanent and rotating exhibits, grouped by manufacturer, theme and era, with a selection of vintage acoustic, electric, jazz, bass, mandolin, banjos as well as memorabilia.
With a grand opening set for March 10 (and a soft launch just underway), the museum organizers expect it to be a significant boost to Chattanooga tourism, attracting more than 100,000 visitors annually. It is located in a space intertwined with city's history: the legendary Chattanooga Choo-Choo terminal station that opened in 1908. (The namesake song turned 75 last year).
Click here to read the full article.
Published by USA Today on February 17, 2017: Written by Marla Cimini