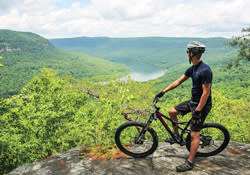 Cessna Decosimo and Daniel Lindley are at church on a Tuesday afternoon in Chattanooga, Tennessee. Lindley, a celebrated chef who has opened three restaurants in town, is smoking and sketching in his notebook. Decosimo, an artist and sculptor, is talking art and religion and the latter's loosening grip on the city. "It's historically a very puritanical community, and spending money on the arts — especially elaborately — was frowned upon," says Decosimo. "New blood here is helping to change that."
Tucked into the Tennessee River Valley, Chattanooga is ringed by jagged ridges and sheer gorges. Lindley, 39, grew up on one of those framing ridges, Lookout Mountain, 1,700 feet above town. He's spent the last few years turning an old Methodist Episcopal Zion church, where we're lounging, into his eccentric, art-filled home. In place of a baptismal font, there's an indoor pool. Decosimo, whose bronze figures decorate many street corners in the city — and Lindley's living room — was raised on Signal Mountain, one of Chattanooga's other major perches.
Each has lived in some of the world's great creative centers — New York, Italy, France — but Chattanooga, population 177,000, is the place to which they both eventually returned, to make food and art where steel and smog once reigned.
"This town was a blank canvas when we arrived back here," says Lindley. "It was full of opportunity that's being fulfilled now in kitchens, art studios, and the outdoors." It's remarkable considering that just 20 years ago the city was basically an industrial wasteland. "It was block after block of nothing," he says.
The '90s brought a revamped riverfront spurred on by the addition of the Tennessee Aquarium, one of the world's largest freshwater aquariums, and the reopening of the 100-year-old Walnut Street Bridge to pedestrians. A city that for decades put its faith in heavy industry is now, thanks to a coalition of progressive leaders, turning to art and the outdoors, and the result is an adventure hub unlike any other in the South or West: a less touristy version of Asheville, North Carolina, or a cheaper Boulder, Colorado — with a lot more diversity. Here's how to make it your own.
Click here to read the full article.
Published by Men's Journal August 2016: Written by Charles Bethea