Across the U.S., designers are embracing the good bones of their convention centers and reimagining those spaces to be more modern, more accessible, bigger, better and more opulent. Often in the heart of a city, arenas and convention centers must compete and plan for parking, meeting space, accessibility to hotels and safety features, all while using the smallest possible footprint and maximizing usability. These public spaces often must find unique ways to grow in an effort to lure lucrative bookings.
Currently trending are open-concept and convertible spaces, glass and mirror street-level elevations and massive overhauls to the technology available in and around the buildings. Athletes and attendees are increasingly engaged with devices as an integral part of their training and reporting; therefore, digital needs are ever-growing and must be an integral part of any venue's offerings. Green spaces are also being added to provide contrast to the often-towering stone, glass and concrete structures we are accustomed to seeing in convention center areas.
Following is an overview, coast to coast, of ongoing renovation efforts:
CHATTANOOGA, TENNESSEE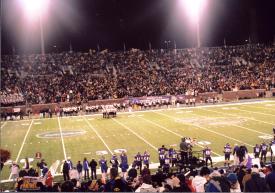 Finley Stadium
Chattanooga's largest venue offers seating for up to 21,000 people, 32 luxury skyboxes, a 50,000-square-foot meeting space, four broadcast booths and a press box. Recent renovations included the installation of new seats for a premium seating area and additional handicapped platforms. Home to the University of Tennessee at Chattanooga football and women's soccer teams, and the Chattanooga Football Club, Finley Stadium and Davenport Field also host a variety of other outdoor events, including football, soccer, lacrosse, band competitions and concerts.
Click here to read the full article.
Published in SportsEvents Magazine September 2018: Written by Robin Mackinaw