Whether it's a first date or the 50th, a milestone occasion like a proposal or anniversary or just a Friday night out, any day can be an opportunity to turn an ordinary date into an exceptional date. Romantic restaurants are nice, but sometimes couples want something more than dinner and drinks.
Our list of the best date spot in every state includes options at all price points in all 50 states, plus the District of Columbia. From a bat-watching sunset cruise to zip-lining, these activities are sure to bring excitement and build better bonds with your beloved, as you explore the best date spot in your state.
Tennessee: Lantern Tour of Ruby Falls (Ruby Falls)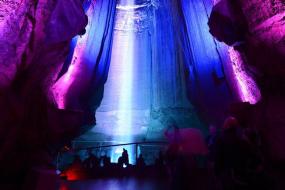 Hear the legendary love story of Leo Lambert and his wife, Ruby, which led to the discovery of the magnificent Ruby Falls, during a tour by lantern of the breathtaking waterfall that was discovered in 1928 more than 1,120 feet below the surface of Lookout Mountain in Chattanooga. Tennessee's Ruby Falls is the nation's tallest and deepest underground waterfall that is open to the public. Enjoy the view from Lookout Mountain Tower and Blue Heron Overlook and soar through the treetops on Ruby Falls' ZIPStream Aerial Adventure, a zipline that includes a 40-foot climbing tower with five routes of varying difficulty and amazing views of the Tennessee Valley.
Click here to read the full article.
Published by The Active Times on February 13, 2019: Written by Lauren Mack