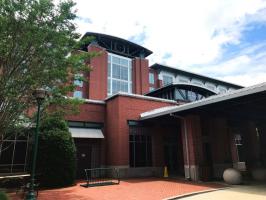 When I travel with my family, far too often we are only looking for "a place to sleep" when choosing our accommodations. The older I get, however, the more wisdom I see in choosing a place to stay that suits everyone in my family. What do the kids want? What do the parents want? And sometimes grandparents need to be included in that equation too! After staying in a few places on our most recent adventures, I can honestly say how much I appreciate what a hotel means to my family.
The Chattanoogan Hotel Review
The first thing I do when planning our family trips is determine what destination falls within our budget. Chattanooga is a budget friendly town because of its proximity to Birmingham. The second part of vacation planning is figuring out where we want to stay. We often opt for somewhere with the basics, but I can see now why that decision can be faulty. After staying in the luxurious accommodations of The Chattanoogan, I would be hard pressed to stay anywhere else in Chattanooga.
Click here to read the full article.
Published by Sarah in the Suburbs on June 26, 2017: Written by Sarah Gilliland