It's quite possible that we are living in an age of peak ice cream, one where old-school creameries are churning out vanilla bean masterpieces honed over generations while creameries are tossing the term "chef" into the mix to challenge the very notion of what ice cream is. It's a win-win for everyone, especially when temps outside begin to spike. This year's best ice cream shops represent everything from old-school custard outposts and soft-serve emporiums to new-wave artisan creameries, with some generations-old stalwarts still operating at the top of their game. Grab a napkin. It's gonna get gloriously messy.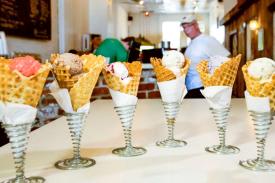 Clumpies Ice Cream
Chattanooga, Tennessee
Clumpies was opened by the son of a third-generation candy maker, who turned the family's sweet tooth to the freezer section. Now two decades into that glorious pivot, Clumpies still works in small batches, keeping things simple -- mostly -- with rich and creamy flavors, like chocolate chocolate chunk and butter pecan. And then not-so-simple with tongue-tingling, Pop Rock-infused Tutti Frutti ice cream. This does have candy-making genes, after all. Mikey would approve.
Click here to read the full article.
Published by Thrillist on May 11, 2018: Written by Thrillist Food