Did you know in some countries they take the entire month of August off? Must be nice. Chances are you've still got a few days of paid time off in your basket, so do as the Romans do and take some time this August to mellow out. Maybe see a new place or two. All over the world, there's great weather, festivals, and events that make August a perfect time to visit -- including plenty of spots here in the USA. From the mountains of Vermont to the deserts of Dubai, we narrowed down the coolest places to travel this month.
CHATTANOOGA, TENNESSEE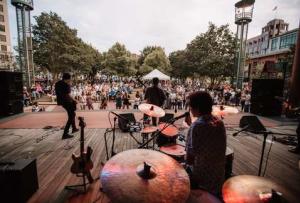 Nashville might have the official "Music City" moniker, but in August, Chattanooga has more music going on than anywhere in the South. Friday nights bring the Nightfall Concert Series, where you can enjoy the cool Tennessee evenings with live concerts in the heart of Downtown. If you're into bluegrass the Rock City Summer Music Weekends Festival happens all month, with old-time folk and country music joining the lineup at shows held atop Lookout Mountain every weekend. August's music lineup finishes strong with the start of the Levitt AMP series, a free 10-week concert series with free shows on the lawn of the Bessie Smith Cultural Center ranging from jazz to country to Southern rock.
Click here to read the full article.
Published by Thrillist on June 16, 2018: Written by Matt Meltzer