"Chattanooga, Tennessee, is on the cutting edge—it's the front-runner," says Deb Socia, executive director of broadband technology company Next Century Cities, referring to the city's 1 gigabit-per-second Internet speed—the fastest in the Western Hemisphere. Implementation of the record-breaking Wi-Fi is only one of the steps city planners have taken to attract tech-savvy businesses, however.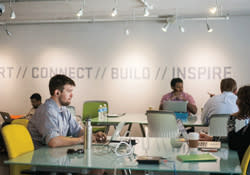 "The city provides resources for entrepreneurs, knowing the Internet alone won't bring them," Socia says. One example is The Enterprise Center, created by a city-run task force to foster and guide efforts related to the gig (how locals refer to the record-setting speed).
One recent landmark accomplishment of The Enterprise Center was partnering with the University of Southern California to share ultrahigh-resolution 4K movies of microorganisms via a digital cinema microscope for STEM students, a historic accomplishment in education and cinematography.
Click here to read the full article.
Published by Connect Association on July 12, 2012: Written by Leigh Jackson Harper