Lured by scenic attractions, sporting events and business conventions, visitors to Hamilton County pumped more than $1 billion to Chattanooga's economy last year for the first time.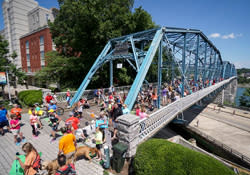 Tourists boosted their spending in Chattanooga last year by nearly 3.4 percent, helping to propel Tennessee's overall tourism industry to a record high of $17.8 billion, according to a study released Tuesday by the U.S. Travel Association.
Tourism is Tennessee's second largest industry, behind only agriculture. Last year, more than 105 million visitors came to the Volunteer State. Serving all those tourists and conventioneers employed an estimated 151,780 people statewide.
"We're a growing industry that we expect will continue to move the chart upward in a northeast direction," said Bob Doak, president of the Chattanooga Area Convention and Visitors Bureau. "The economy continues to improve, and I think in Chattanooga we offer the kind of authentic and natural experience many people want."
Hotel developers are banking on better times ahead for the industry, with plans underway or on the drawing board for nearly $120 million of new or renovated hotel facilities in downtown Chattanooga. Doak said hotel developers are a good barometer for the industry's future.
Chattanooga benefited last year from a combination of major sporting events such as the IRONMAN triathlon, more business meetings and more tourists attracted to a growing number of outdoor, musical and enhanced attractions.
Click here to read the full article.
Published by the Times Free Press on August 31, 2016: Written by Dave Flessner