Whether it's a favorable exchange rate, new flight route or overlooked city, that dream trip may be more accessible than you think.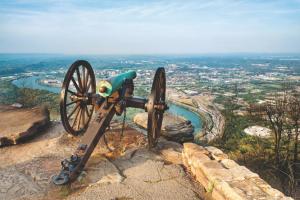 CHATTANOOGA, TN
Seemingly out of nowhere, Chattanooga has emerged from Nashville's shadow to become a primary destination. Once known as a railway hub, today the city is better known for its outdoor activities, culture and affordable restaurants. On the outdoor front, there's Lookout Mountain, offering a scenic overlook, the deepest cave in the country (complete with an underground waterfall), zipline and one of the steepest train rides. As one of the longest pedestrian bridges in the world, Walnut Street Bridge provides scenic views for runners, walkers and cyclists. The 13-mile-long Chattanooga Riverwalk is another great option, and connects the Chickamauga Dam with downtown. Speaking of downtown, culture lovers will appreciate the smart traveling exhibitions (look for "Noel Anderson: Blak Origin Moment" in October 2019) and permanent collection at the Hunter Museum of American Art (free on Thursday nights). The worthwhile Songbirds Guitar Museum contains an impressive collection of vintage guitars, and costs $12 per ticket or $45 for a family of four. Meanwhile, those curious about the whiskey-making process can tour the Chattanooga Whiskey Experimental Distillery for $12, including a whiskey flight at the end. For lodging, bed-and-breakfast Mayor's Mansion Inn starts at $139, while the trendy new Moxy Chattanooga Downtown comes in about $150.
Click here to read the full article.
Published by the Travel Channel on February 2019: Written by Meredith Rosenberg