Fall is quickly approaching. For some of us in the South, it can't come soon enough (goodbye humidity!). With so many great towns in the region, it's time to get out there and explore the best the South has to offer!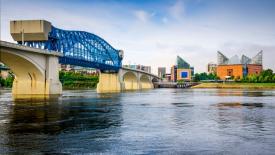 CHATTANOOGA, TENNESSEE      
Chattanooga, Tennessee boasts a revitalized riverfront with 13 miles of paved Riverwalk leading to numerous attractions, parks and restaurants. The Chattanooga Market is a must, being the region's largest producer-only market with multiple events and entertainment. And don't forget to try the local seasonal brews at the Chattanooga Brewing Co.
Click here to read the full article.
Published by Travel Pulse on September 5, 2018: Written by Lauren Bowman