Whether you're sneaking in one more summer vacation or getting ahead of planning a future escape—TripAdvisor is here to help! There's no need for far-flung airline tickets in this wanderlust-worthy roundup. We're featuring the best weekend trips by region so you can find one that's close to you. These top weekend getaways across America offer amazing activities, scenic sightseeing, great attractions, stellar weather—or all of the above!
Even if you're only on vacation for a couple days, finding the perfect place to stay is easy with TripAdvisor. From cozy cabins or breezy beach houses, to downtown condos and apartments, TripAdvisor has affordable rental properties available to book right on our site. Whether a quick weekend break or long weekend getaway, these destinations are worth the car ride!
And once you decide on a destination, you can book all your tours, activities, and attractions right on TripAdvisor. Plus, our new 24-hour cancellation policy means you can pre-book before arriving, but still have the flexibility to cancel if your itinerary changes.
CHATTANOOGA, TENNESSEE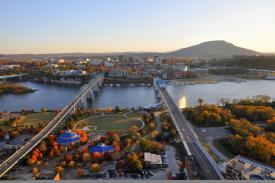 Nashville saunter and Appalachian ease come together in Chattanooga, one of the best weekend trips in the Southeast. Here you'll find homestyle barbecue and upscale cuisine in equal measure and enough outdoor entertainment and cultural activities that your escape practically plans itself. Get a lay of the land on a hop-on hop-off trolley tour, and then head to the Tennessee River for a stroll along the renovated riverwalk or a cruise past the city skyline and under its well-recognized Walnut Street Bridge. Plus, Chattanooga is conveniently located within driving distance of big Southeastern cities like Nashville, Knoxville, and Atlanta, so you can turn your long weekend getaway into a memorable road trip. Find a great place to stay in Chattanooga!
Click here to read the full article.
Published by TripAdvisor on August 14, 2018: Written by the TripAdvisor Editors