As 2018 winds down, 2019 vacation planning for many is already underway! And rightfully so, you've worked hard this year and are more than deserving of some well-earned vacation time. For the adventurous travelers among us looking for a new favorite city to explore, we present to you 7 US cities ready to claim their share of the spotlight as top-tier destinations. Be the first of your friends and family to discover some of the hidden urban gems of the United States!
When you've selected your next place to explore and it's time to book your getaway, TripAdvisor can help plan your whole itinerary. Start by finding a comfortable, affordable vacation home to stay in (bookable right on TripAdvisor). Then, choose from hundreds of thousands of bookable tours, excursions, attraction tickets, and more directly on our site, too! Our new 24-hour cancellation policy (for in-destination experiences) means you can pre-book before arriving, but still have the flexibility to cancel if your itinerary changes.
CHATTANOOGA, TENNESSEE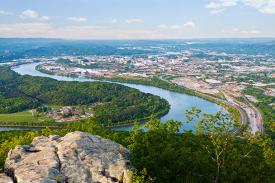 The name "Chattanooga" comes from the Creek Indian word for "rock coming to a point." This refers to Lookout Mountain, one of the city's major attractions. Here visitors can explore extraordinary rock formations, see a roaring enclosed waterfall and travel by train to the top of the mountain for truly awesome vistas. Back down on the ground, don't miss the world's largest freshwater aquarium, the Tennessee Aquarium. History enthusiasts will love the city's museums dedicated to Civil War, Native American and 20th-century history. More than anything, Chattanooga is a scenic city, full of natural wonders waiting to be explored by foot, car, bike or train.
Click here to read the full article.
Published by the TripAdvisor Rentals Blog on October 22, 2018