From actual cities to more specific destinations, Atlanta sets central to some pretty cool places. Mountains, beaches, amusement parks—all of this exists no further than a few hours away from the big city. Planning a weekend getaway or more extensive trip is pretty simple when departing from a place so close to unique terrain and landmarks. So whether you live in the ATL, or are just trying to plan the ultimate southern vacation, these are the best vacation spots close to the Peach State's capital.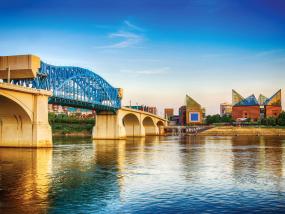 CHATTANOOGA
Chattanooga is widely known for interesting rock formations and the scenic Lookout Mountain. That alone makes it a great destination not far at all from Atlanta, but there's more. Historic tours, pedaling bars and boat or train rides could easily fill a week, and the city also houses the largest freshwater aquarium in the world.
Click here to read the full article.
Published by Trips to Discover on April 17, 2019: Written by Karyn Wofford